Position & base?
First officer on the caravan 208B & and Dash 6 Twin otter, based in Nairobi, Kenya
Job role summarised
Carrying out line duties as a Bush Pilot First Officer

Example of a typical day in the life of a Bush Pilot in Africa?
A typical day at work during the high season starts at about 0730Z. It may be one flight that consists of upto 12 sectors, or three flights of about the same number of sectors. Everyday is a different day, flying to the three major game reserves we have in Nairobi. Normally 12 sectors would be about 5-7 hours of flight time. It's amazing to witness the beauty of my country, while I'm doing something I've always wanted to do.

Why did you choose this job as a Bush Pilot in Africa?
I grew up watching my father do the same thing. I don't think at any one point in my life did I ever think of doing something else apart from wanting to be just like my father. He was my role model, my best friend, and I wanted to be just like him.
What's your favourite part of being a Bush Pilot?
Getting to do what i love to do everyday. When you have this much passion for your job, work doesn't really feel like work. Also flying the Twin Otter. It's such an amazing aircraft and i'm lucky to be flying such an old but AMAZING aircraft

One great thing about your company?
The people i work with. I fly for Air Kenya Express, and the people I work with are the people that make the Company what it is. We're a family. It's like going to fly with your best mates everyday. We're all so close and we always look out for each other. Not to forget, the training standards at Air Kenya are very high.

What do you find the most challenging parts of the job as an
During the peak season, we can do close to 100 hours of flying in a month, for three months consecutively. It can be difficult at times to find the time to get some proper rest because of the long hours on duty. But once you find the balance, it becomes quite easy. Other than that I can't think of anything that's really challenging.
Most surprising part of being a Bush Pilot in Africa for you?
That i get paid to do all this 😂 I count myself very lucky, and extremely grateful.
Most memorable day on the job?
It was the first time I actually experienced bush flying. Flying right in the middle of the game reserve, above one of the wonders of the world. You get to see all the beautiful creatures you never thought you would ever come across. Can you imagine what it feels like to land at a Murram airstrip and see Lions watching you as you exit to the apron ? It's surreal !
If you could go back to the start of your career, what would you do differently & why?
I wouldn't do anything differently at all. I always believe that whatever we go through in life, it happens for a reason. I spent five years in flight training while working as a flight dispatcher. That's a long time to be in flying school but I'm happy that I got to experience a different role in aviation. I worked with many different people and this is very valuable in terms of experience. I put in the hard work to be where I want to be so I wouldn't change anything at all.
Would you recommend your career to other pilots? Any advice for them?
Yes i would recommend it, especially for guys getting into flight training but lack the funds to do so. Like I said earlier, I got into flight operations and dispatch so I can put myself through flight training. It was a slow painful process but if it's something you really want, you end up putting your heart and soul into it. Later on, it all pays off. My advice is, never give up. no matter how long it takes or how hard it is to get there, never give up.

Flying hours per month?
About 40-60 hours flight time during the low season, and about 80-100 hours during the peak seasons.
What's your future plan?
To grow with the company. After covid hit, airlines took a huge blow including Air Kenya. The world is slowly getting back to normal and so is the aviation industry, and I would Love to be part of the family that helps Air Kenya get back to it's feet and spread its wings. Hopefully someday I can get to fly the bigger fleets we have here.
What does a bad day at work look like for an African Bush Pilot?
Delays and grumpy passengers normally don't go so well with each other. In aviation we're always going to have one of those busy days where pax are late somewhere and this causes subsequent delays on the next flight. or aircrafts snags that are inevitable. This can frustrate passengers and their plans for the day and they end up lashing out at you. It's a difficult thing to deal with because 'the customer is always right'. but once you experience this scenario several times, it becomes easy to deal with. It's hard to explain that we are late because the aircraft has a technical issue, or we have to wait on the ground for a few minutes because some passengers haven't checked in. so you learn to explain the situation as it is, you apologize for the inconvenience, and you carry on with a smile. It's all part of the job.
What does a great day at work look like for you?
For me it would be flying the twin otter, with a really nice friendly enthusiastic captain, doing many sectors and experiencing zero delays. I can't even begin to explain the sense of pride you feel when you carry out your job successfully as a team. Having friendly passengers too that always are so intrigued, and inquisitive. Chatting briefly with them and finding out where they are from and what brings them to our country is always fun.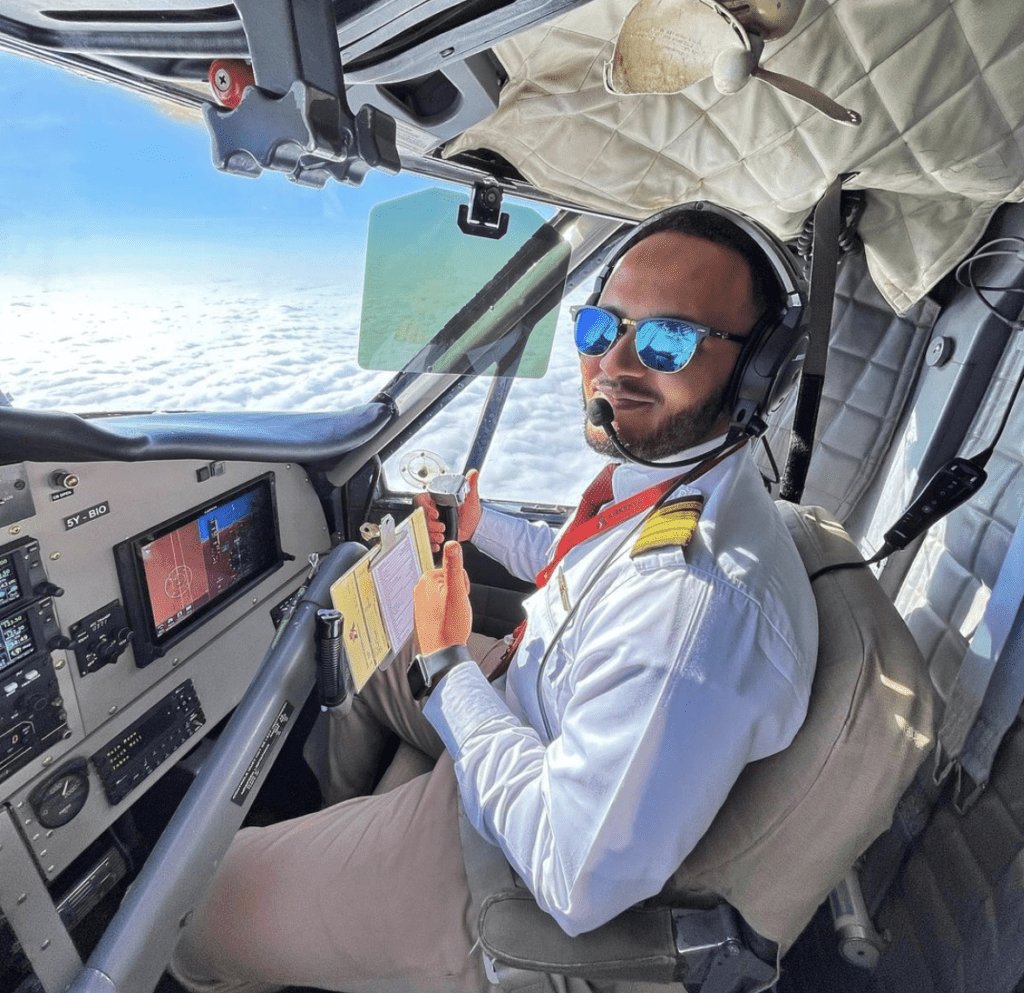 We'd like to say a huge thanks to Tariq for answering these Q's for us and providing insider information into the life of Bush Pilot in Africa! If you have any questions, please leave them in the comments!

Helpful Links
Pilot Jobs – Aviation Job Search
How to get bush pilot jobs in Africa video
See our other First Officer blogs here – EasyJet First Officer – UAE Private Jet First Officer
Or if you're more into helicopter flying….Heavy Lift Helicopter Pilot Life: Mastering the Skies